Looking around at the Earth Houses in Olst
In early May, we were guests of Ferdi Hummelink and Tessel Hofstede at the Earth Houses in Olst. We cycled in the drizzle through Olst and behind a new housing estate we saw a hobbit-like village appear. Houses covered with grass and partly made of earth, with solar panels and solar water heaters according to the principle of an earthship. We were welcomed by a row of cheerful mailboxes and walked along a narrow path to the house of Ferdi and Tessel, where we could talk to Ferdi about what it is like to live here. Besides all the greenery, it is also worth noting that all the houses face south and have huge glass facades. Despite the grey weather outside, it is still very light inside, but it has even more advantages. In winter, the house catches the sunlight optimally and thus already partly warms up, even though it is cold outside. This is one of the key features of the earth house, making the best possible use of the sun. In the summer, on the other hand, the sun is high in the sky and a kind of overhang ensures that not too much sunlight enters so that it does not get too hot inside.

So a significant part of the energy used comes from the sun. Not only through the glass, but also the solar panels and solar water heaters on the roofs capture a lot of energy for heat and electricity. Excess heat can be stored in a large buffer tank in each house. Unfortunately, it is not sunny enough in the Netherlands to be comfortably warm all year round, so sometimes extra heating with a pellet stove is necessary. So there is a big focus on energy in the Ecovillage, especially by Ferdi with whom we speak. Experiments with a battery system will now be carried out, which will enable even more energy to be stored. Such a balance in the generation and use of energy throughout the year remains a great challenge, as we also described in our blog on hydrogen.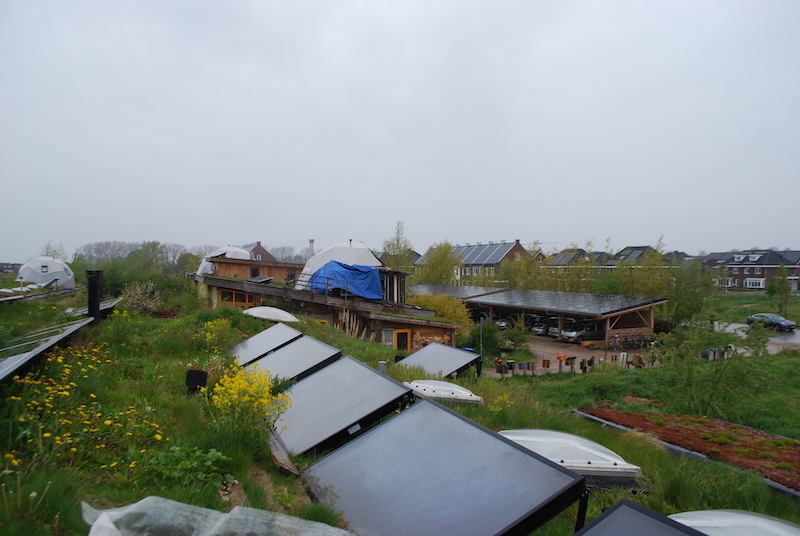 An earth house like the one in Olst is not for everyone. A relatively large amount of space is required for such a house and (helping to) build the house yourself is an intensive process, both mentally and physically. Building your own house always takes more time than you think, and if the rest of your life goes on besides that, it asks a lot of you. But the result is worth it! So a city full of earth houses is not going to happen, but with Ferdi we also discuss how the principles that have been used for the construction can be applied elsewhere. Good use of the sun, for example, is something that can be applied more widely, but also the use of "waste" as a building material is something that can be applied elsewhere. And if a completely green house is a bridge too far, perhaps a green roof (including solar panels) is still possible. For us, it was another inspiring example of sustainable building and living! Want to hear more? Listen back to our conversation with Ferdi here (in Dutch):