Week 19 – Views on the Alps
Saturday was going to be another hot day, but we only had to cycle a short distance. We went to a nature campsite near Waldshut-Tiengen. That was just in Germany but you could cycle into Switzerland within half an hour. And that was exactly what we had in mind, because we had appointments on Monday and Tuesday at the Paul Scherrer Institute (PSI) in Switzerland. After the overcrowded campsites of the previous days, we were very happy to get a quiet spot in the highest corner of the campsite. There were even usable power sockets, so we could do some work next to the tent and prepare for our appointments. There was also a stream next to the campsite that we could use for a refreshing dip.
On Sunday, we went for a walk from the campsite and got our first view of the Alps. Pim worked hard these days to spread his thesis and was overwhelmed but also very happy with all the reactions.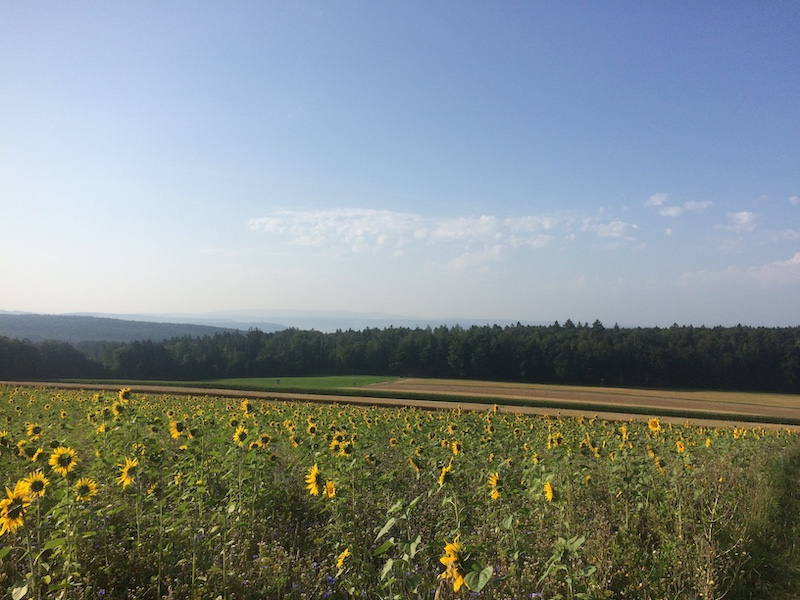 On Monday, we cycled to Switzerland where Tilman Schildhauer showed us around PSI's energy integration platform. It was great for Els to be able to look inside the container of both an electrolyser and a fuel cell. We also learned more about the energy system in Switzerland. There is a lot of hydropower, but that is mainly in spring and summer. In addition, a lot of nuclear energy is (still) used and a lot of oil is needed for transport. The houses in Switzerland are already well insulated, but to get a fully sustainable energy system, they do have a problem solving the scarcity of energy in the winter. The people we spoke to think that (local) biomass can be part of the solution and are investigating ways to make as much biogas as possible from biomass (from local forest and wastewater treatment plants). Els gave a presentation on her research and had interesting conversations with the researchers there.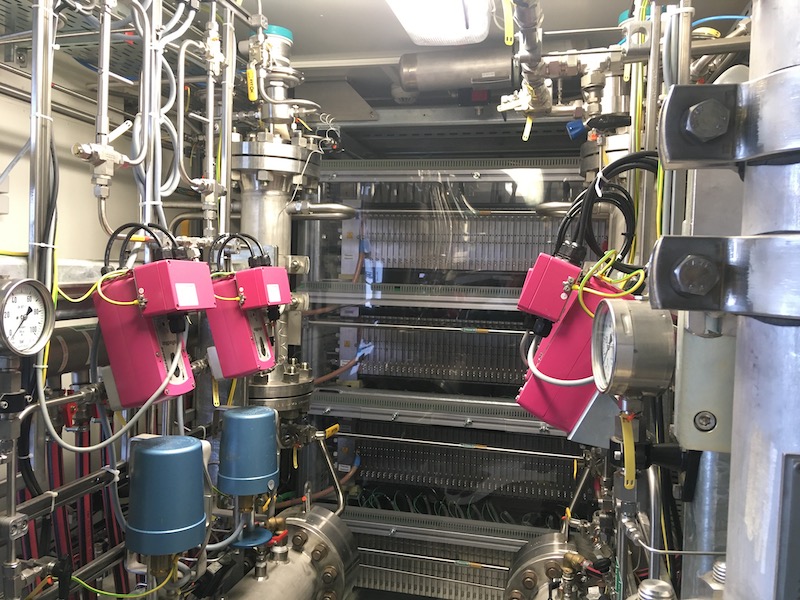 On Tuesday we went back again, but this time we met Brigitte Osterath and with her we visited the nature reserve created on a high-tech electron laser. We will write about this later. In the evening, we had a kind of mini-barbecue with nice German meat substitutes.
From now on, we have no more appointments planned and our focus will shift to climbing the Alps. On Wednesday, we got back on our bikes full of energy for another couple of relatively flat days along the Rhine and the Bodensee. In the morning, we soon came across Kevin playing with his drone. He had just started a cycle trip through Europe four days ago, just like us. He too has a blog and a similar goal, which is to discover how Europe is going to be able to meet the target of 55% CO2 reduction by 2030. With so many similarities, it was of course nice to cycle together for a while. On the way, Kevin made a few shots of us with his drone.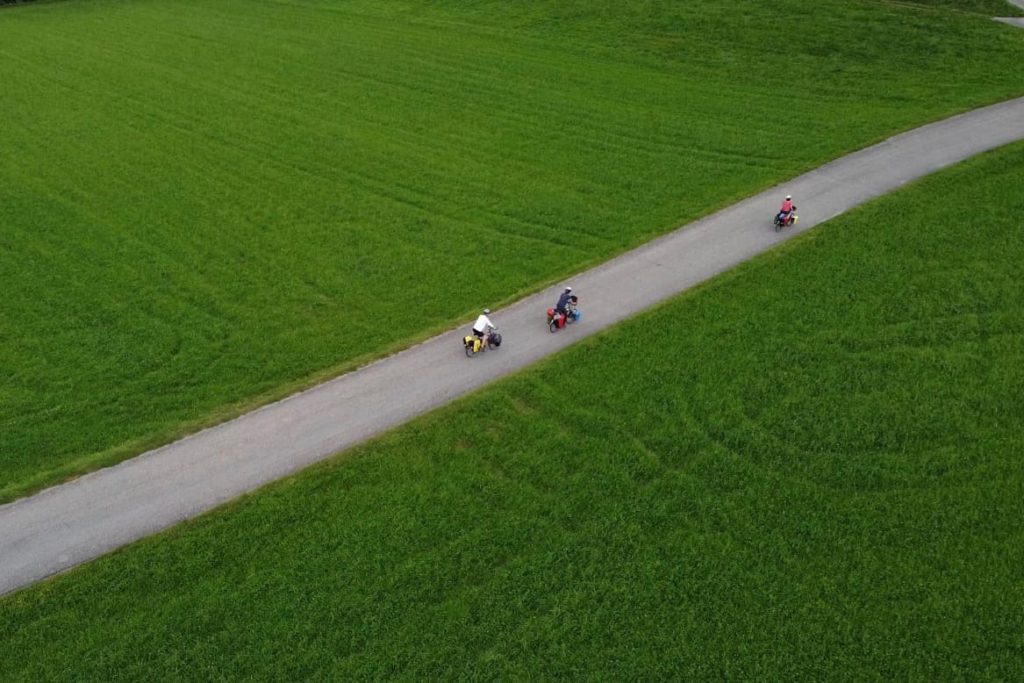 We have been following a part of Paul Benjaminse's "Cycling to Rome" route for a while now. Where necessary, we deviated from this route to visit projects. This time, too, we decided to deviate and follow a part of the Rhine that Benjaminse cuts off. And we were happy to do so, because that part of the trip led us along beautiful views of the Rhine and also along the Rheinfallen: the biggest waterfall in Europe.
We ended our Wednesday with a swim in the Rhine and cooked a delicious dinner by the water with Kevin. That night, we slept for the first time in Switzerland at a beautiful, well-organised but also very Swiss-priced campsite.
On Thursday, we had planned to reach the Bodensee and cycle on until we picked up Benjaminse's route. This 80 km route turned out to be too ambitious, so we took it easy with long breaks at the Bodensee, fortunately there are plenty of campsites. Nevertheless, we were happy with our route, which also took us to the picturesque Stein am Rhein, with its beautifully painted buildings. We were also in Germany for a short time in Constance and Els wanted to eat an ice-cream coupe at an ice-cream bar. Unfortunately, they were all too full, closed or on holiday, so we ended up with a cup of vegan ice cream from Lidl in a park by the Bodensee. That was not bad at all. By the way, we are still amazed at how much we can eat, we can easily eat a cup of ice cream together and we are not even full. After the ice break, we quickly reached a campsite and had another picnic at the Bodensee in the evening. We were reminded of our hike through the Black Forest four years ago, where we also ended at the Bodensee and had dinner there on a warm summer's evening.
On Friday, however, we left the Bodensee again, after Els had swum in it in the morning and we had our lunch in a park along the Bodensee. Our relatively short cycling day took us through Austria and gave us increasingly better views of the Alps. We ended up at a campsite by a small beautiful lake near Sankt Margrethen.