Week 8 – A week in Groesbeek
After the weather changed on Friday and it became sunny and warm, the beautiful weather fortunately continued. This allowed us to recharge a bit with solar energy. The campsite was nice, literally on the border with Germany on a road without cars, very peaceful with a nice atmosphere. So we were very happy that after some talking we could stay the whole week. On the same day that we heard that we could stay at the campsite, the neighbours gave us apple pie in the morning that they didn't really want to eat by themselves. Of course, we did not say no to that! About an hour later, someone else came and asked us if we would like some home-baked apple pie that was left over from her husband's birthday. Pim sputtered 'um well we already got apple pie…' but Els thought 'why not' and so we could eat apple pie all day. As someone would say later in the week: apparently it was your time to receive.
So it became a week with little cycling, but filled with other things. On Saturday we had a meeting at the food forest Ketelbroek near the campsite. We were very impressed by how quickly a field has developed into such a diverse food forest (in the making), including a beaver's den and a stork's nest. Blog and podcast can be found here.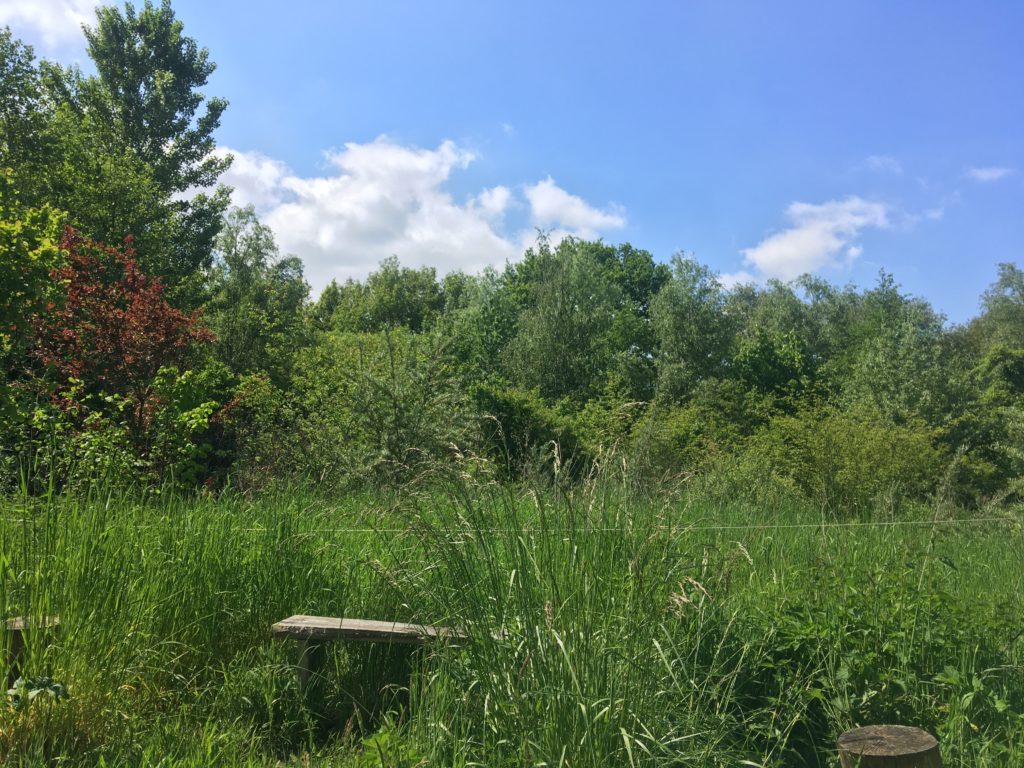 We also went to Nijmegen for a day and enjoyed the nice atmosphere and the beautiful views (advantage of the height differences). Talking about height differences, we also walked the N70 which sounds like an N-road but stands for nature route 1970. A route set out in the year of the nature protection 1970 and a walk with about 375 altimeters which is a lot for Dutch standards. It was a beautiful hike and we walked sheltered between the trees almost all the time and at the end we could even sit on a terrace at the pancake restaurant De Duivelsberg. We could really appreciate for a moment how special it is that we were allowed to be outside all day on a weekday like that and go for a walk, instead of being cooped up in the house behind our computers. We also went for a walk in Germany (which was allowed again) and took a dip in a nearby pond. It started to feel more and more like a holiday!
On Thursday, we packed our things to go to Arnhem. We cycled with a nice diversions through Germany and along the place where the Waal branches off from the Rhine. In Arnhem, we were allowed to camp for a night in the orchard of the Arneco housing project. The housing project is developed on the site of an old farm and there is also a large piece of land of 1 hectare where many vegetables and fruits are grown. Really a beautiful place. We cooked for and had dinner with the initiator Kimo van Dijk and had extensive discussions about work and about Arneco. Kimo is involved in nutrient cycles and nutrient recovery, and it is partly for this reason that separation toilets have been installed in the Arneco houses. These toilets separate urine and faeces and the idea is that both streams can eventually be used to fertilise the vegetable garden. For example, urine contains a relatively large amount of phosphate, which is also found in artificial fertilisers. In any case, we can empirically conclude that such a toilet is no different from normal for the user, except that as a man you have to sit down.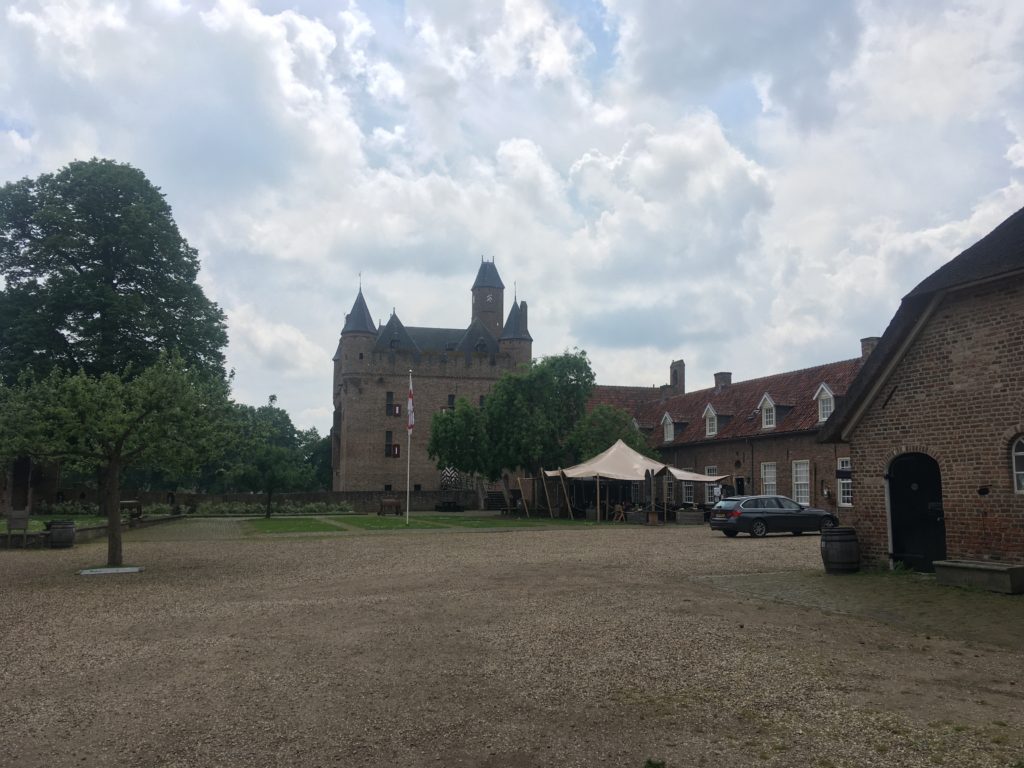 On Friday, we drove back to Nijmegen, this time to a housing group in a monastery where we were allowed to stand in a garden again. The monastery was once squatted and now people live there relatively cheaply, but in return they maintain the building together. Even in such an old building, innovations are possible. For example, rainwater is collected from all the roofs and infiltrated into a well in the garden (over which our tent partly stood) and the water can be used for toilets and washing machines. It is great to see that this is also possible in such an old building. For us it was a bit less fun because there was a thunderstorm coming and the well was full so that the water could not be stored in case of heavy rain. So we had to move the tent quickly in the evening to prevent potential drift… Fortunately, in the end it was not that bad.
After a week in Groesbeek and a few days in Arnhem/Nijmegen, we are now really on our way abroad… You will find out which foreign country that will be!