Camping cooking with Pim & Els
In this post we share some recipes that we like to cook on our trip, but the blogs we refer to are all Dutch. So please use google translate if you want to cook them!
If you are going camping for a few weeks, the combination of pasta pesto, eating out, wraps, chips, pasta salad and pizza is probably fine. But when you're away for as long as we are, it's nice to expand the repertoire a little! So, what do we cook? We thought it would be fun to dedicate a blog post to that. Who knows, it might come in handy for others when camping, now that the holiday season is almost starting.
We ourselves eat vegetarian and if possible vegan. So the dishes in this blog post are vegetarian anyway and we give options for everything to make it vegan. We are also very ambitious and try to cook for 4 people with our one gas burner, two saucepans and frying pan. That way, we also have lunch for the next day. We have selected five dishes that are just a little bit different and that we like to cook.
1. Bulgur with peppers, tomato tapenade and hazelnuts
Nice spicy and rather fancy dish with a sauce and nuts on the side. Based on this recipe from the albert heijn: https://www.ah.nl/allerhande/recept/R-R1187464/gevulde-paprika-s-met-bulgur-en-hazelnoten
Our alterations are:
Do not make stuffed peppers, but put the peppers in pieces. Very tasty too!
Instead of 'fresh grilled vegetable mix', use a courgette cut into small pieces and fry it with an onion and the paprika
Dried Italian herbs instead of fresh thyme
For the vegan variant: unsweetened soy yoghurt instead of Greek yoghurt
2. Bulgur salad 'à la tabouleh'
We love to eat tabouleh at home in summer, but all those fresh herbs are either hard to find or very expensive. A container of parsley will often do, and we liked this salad!
The recipe can be found here: https://ikbenirisniet.nl/2015/04/06/recept-de-bulgursalade/
We went for the vegan option with salted cashew nuts instead of feta, and lots of toasted seeds. Delicious!
3. Pasta salad
Yes, a pasta salad indeed, because it is so nice and easy to only have to cook pasta. No idea anymore where the recipe came from, so we'll write it out here:
300-400 grams of quick cooking pasta (at home we use spirelli, when travelling we use macaroni)
pot of sun dried tomatoes
pack of rocket salad
handful of walnuts
one avocado
one or two red peppers
canned corn
Cook pasta, add a little oil from sun dried tomatoes. Cut the tomatoes into pieces, dice the peppers. Crush the walnuts with a knife or your hands. Mix everything together.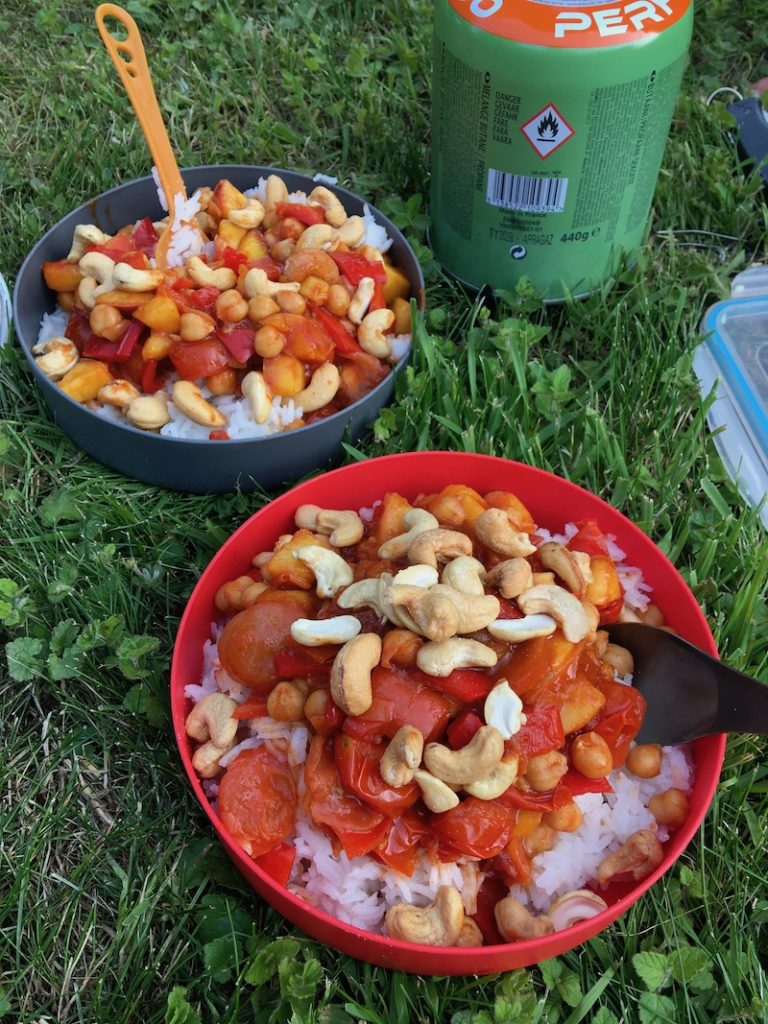 4. Peach Pilav
Warming yet summery, we find this one to be ideal. When we're hungry we eat a bit too much of it, so there aren't two full portions left for lunch… But we take that as a good sign because it is so tasty.
Recipe is here: https://foxilicious.nl/2019/02/25/vegetarische-pilav-kikkererwten-perzik/
Our modifications
If they are in season and ripe enough: use fresh peaches or nectarines, so good!
Anyways use a big can of chickpeas instead of a small one; more protein
And lots of cashews
5. Mexican salad
This was already one of our favourites at home when there was no time to cook. When travelling it works fine too, especially because you don't even need a gas stove. So if you run out of gas or it's too hot… this is a good option in any case.
Found via: https://www.degroenemeisjes.nl/groen-zonder-poen-mexican-salad-jar/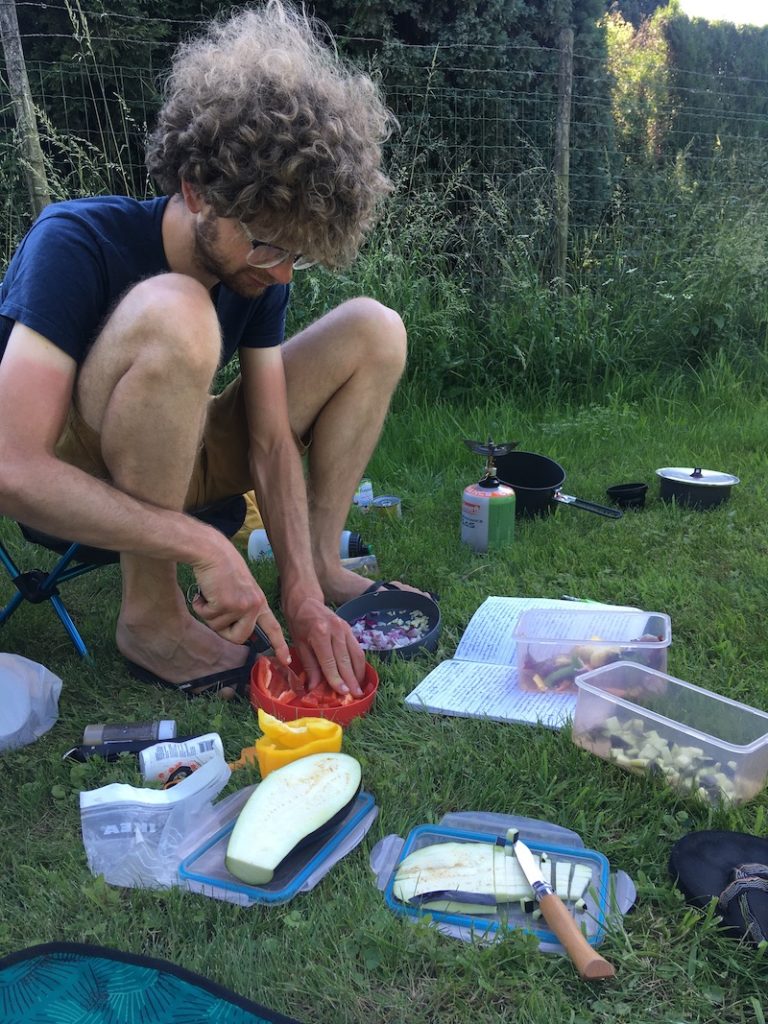 Finally, some pro-camping-cooking tips:
Cook rice/pasta for half the cooking time, then put it away in a tea towel while you can get on with frying vegetables, for example.
A bin bag! Very multifunctional. Use as a table, countertop, to sit on when a bench is wet, to put a wet tent in so the rest of your luggage doesn't get wet (okay that has nothing to do with cooking).
Sealed containers; we have two that are big enough to carry lunch. The lids also function as cutting boards.
What is your favourite camping dish?