Week 14 – Building, plastering, painting, planting, sanding, weeding and going on again
Until Friday, we stayed at Ferme du Bout du Monde and did all kinds of jobs. We painted a ground-floor appartment, pulled weeds from the vegetable garden, painted a well, planted leeks, parsley, spinach and broccoli, made another bench and table and so on. We also managed to take apart a bed and, when putting it back together, to do everything wrong that was possible. As a result, it took us a while to work out what was wrong and how it should be done. Besides chores, we made good use of the possibilities of a fully equipped kitchen and cooked for a large part of the week.
On Wednesday we went to help build an Earthship, similar to the Earth Houses in Olst. Only this is a public building meant to receive groups and inspire people (and also specifically students). We helped with the clay plastering of a wall. It was fun to do, playing with water and sand, and it turned out beautiful too. We were also able to share some information about the projects we had visited before. That was really nice, it feels like things are falling into place. Wednesday was also the day when the flooding started and Els joked at the end of the day that it looked like the deluge had started, and that an earthship was a good place to be…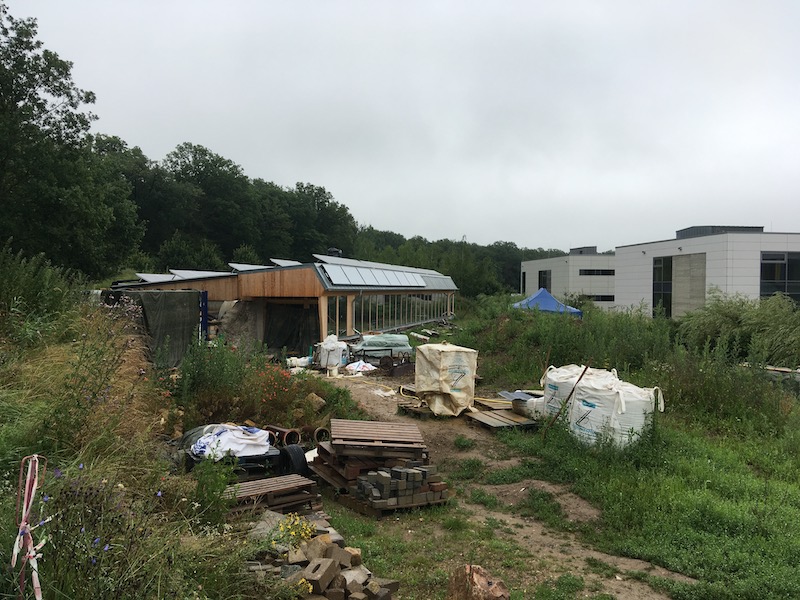 From Tuesday until Thursday it was raining non-stop. We were very happy and grateful that we were safe and dry, in a house instead of in a tent on a campsite… and at the same time it feels strange that you are not bothered by anything while a disaster is happening. We saw photos of places in Limburg where we cycled along the Meuse River not so long ago. Oh no, at that ferry, the water is up to the terrace! The information boards are completely under water… And in the Netherlands we've actually managed quite well, compared to Germany. We are shocked, just like everyone else. We see this kind of weather as a consequence of our changing climate. It makes it clear that the consequences are not far away, or in the future, but are already happening here and now. We will have to adapt, while still trying to limit climate change as much as possible (called mitigation). Would a disaster like this wake people up even more? Or will it only strengthen our focus on the short term and at best on even more climate adaptation…
The place where we stayed is also symbolically called 'the end of the world'. In any case, it tries to be an example for a different world. The principles of permaculture are not just about agriculture but are really aimed at a way of life. The principles include using as little energy as possible, generating sustainable energy and making the land climate proof. In other words, both limiting your impact (mitigation) and adapting (adaptation). As Wouter van Eck told us in the food forest, his forest suffers much less from both wet and dry periods than the neighbouring fields.
We keep wondering whether all these positive examples we visit will be enough to counteract climate change. Still, we choose to hope that they will make a difference.
Well, back to our travel story! On Saturday, after 10 days of volunteering, we moved on again, cycling from Arlon to Florenville, to settle on a campsite near the Semois river. We had no idea what it would be like there in terms of flooding, but apart from some high and fast-flowing water, there was nothing going on in any of the villages or towns we passed through. Fortunately, the same applied to the campsite. It is strange to suddenly find yourself in the middle of the high season: the campsite is completely full, but we were assigned a wild and soggy field next to a stream. Absolutely fine for us! The weather is beautiful now and we have decided to stay around for another week. Next week, we will have been vaccinated for a month and according to the French, we can then cross the border without a test. In the meantime, we enjoy ourselves here mainly with walks, reading and cooling down a bit in the stream.